Get To Know Our Designers!! 
We are excited to give you a "behind the scene" view from Kathllen McCarthy, set designer/builder for our upcoming show, "Emma."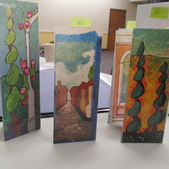 Kathleen McCarthy 
How did you get started in your field?
I used to make elf houses in the back yard; and after days of weaving a leaf roof and muddling "Y" shaped twigs into doorways my dad would plow them into oblivion with the lawn mower. I learned how to let my own work go at a very early age. He use to find me hiding away at his unused "man- cave" work bench sawing scrap wood without reason. I loved the coarse sound of rusty teeth on soft wood and the smell of pine dust. At 10 he
came home with a drafting table that had been left on the curbside. I went from tracing shapes on newspaper, to using the tablem to drafting for the top theaters in town within
8 years. When my parents surprised me with my viola, it launched me into a foreign social world I had been avoiding like the plague. In the pit orchestra I experienced working in the theater for the first time. For my second show I auditioned and was promptly denied -they handed me a drill. Between elf houses and a second-hand draft table maybe I had enough experience to give it a go? Now it's been 12 years.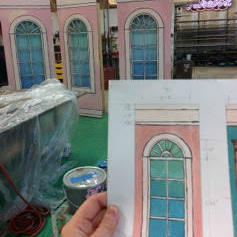 Can you explain the process of Scenic Designer from start to performance? 
Two months ago I read the script, highlighted props, time of day, season, holidays, and overall emotional content. From there I began with thumbnail sketches, which progressed into in-scale painted renderings. I drafted a budget, redrafted a the budget, re-painted my renderings and re-budgeted. Then changed all my plans at the check out of Home Depot. For the month of October I built the set alone in a warehouse in a Minneapolis suburb, and then we transported the set into the actual theatre October 29.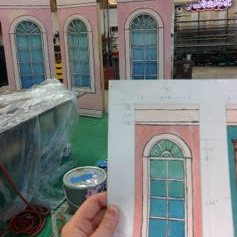 What is your favorite part of the artistic process?
To build is to be. The act of creation is the only thing which seems certain to me in this complex and fast pace world. And the fact that theater is a collaborative art, that we are growing and loving life side by side with others while making art…well, life couldn't have more meaning than that.
What is your background and what other types of jobs hobbies do you do?
I rather enjoy painting. I play guitar, piano, and of course viola. I like to read the classics, snow board, rollerblade, and travel. I have no other jobs at this moment which are related to theatre and this job. My job requires skills in construction, welding, painting, drafting, sewing, plumbing, and pneumatics. My resume includes work at Penumbra, the Ordway, the Guthrie, Chanhassen Dinner Theater, and Vstar Entertainment. Out of state I ran the technical season for a company in Maine, and was a carpenter with the Heritage Theater Festival in Virginia.